As deserts go, the Sonoran Desert is quite rich and lush with vegetation. The cooler temperatures and increased rainfall of the winter months lay the groundwork for the Sonoran Desert to be transformed into a brilliant, beautiful, multicolored carpet in the spring months. In years where the conditions are right to create these large blooms, tourists and locals alike flock to our many natural sites around the region to immerse themselves in the wildflowers. Typically, there are two wildflower seasons, one in mid-to-late March, and one after the beginning of monsoon season in July or August. The intensity and abundance of the blooms varies greatly from year to year, based on rainfall and temperature timing. Heavier rains and cooler temperatures in December, January, and February typically lead to larger-than-usual wildflower blooms in March and April. With the abundant rainfall that Southern Arizona has received in late 2022 and early 2023, this year's spring wildflower season is sure to be a spectacular one. Check the individual websites and social media pages for each attraction for up-to-date information on wildflower blooms!
Here are some of our favorite places to go and experience wildflower season in and around Marana! Wherever you go, please exercise safe hiking practices, know your limits, and remember to Leave No Trace so that these sites can be enjoyed in their full glory by others.
Picacho Peak
One of the most popular locations for wildflower spotting in the region is Picacho Peak. The iconic and prominent volcanic peak has been a landmark used for navigation by the peoples who have inhabited the Sonoran Desert for millennia. During wildflower blooms, the peak is surrounded by an explosion of yellow and purple, being surrounded by poppies and lupines.
Picacho Peak State Park offers a variety of trails for different desired experiences and skill levels. The Nature Trail and the Children's Cave Trail are perfect for leisurely strolls through the meadows at the base of the peak. The Sunset Vista Trail provides a longer hike around the base of the peak, while still being surrounded by flowers, and the Calloway Trail leads to a lower overlook where you can catch good views of the desert below. If you're up for a real challenge, look no further than the Hunter Trail, which leads to the peak's summit up steep terrain, smooth rocks, and steel cables.
Please note that Picacho Peak State Park is a very popular destination during wildflower season (March and April), so there will typically be other people enjoying the park along with you. Crowds are typically lighter earlier in the morning.
Photos by Ryan Wissmann (left) and Stefanie Boe (right).
Wild Burro Trail, Tortolita Preserve, and Tortolita Trail System
The Wild Burro Trail and the many other trails in the Tortolita Mountains offer many species of wildflowers, crested saguaros, hummingbirds, and butterflies, across the many canyons of the mountain range. All of the trails are free to use, and are accessible to hikers, bikers, and equestrians (not all trails are available for all uses - check the park map or website for more information). There are a variety of options for hikes based on desired length and skill level. Typically, the best opportunity for spotting wildflowers is on the Alamo Springs Trail, which is accessed via the Wild Burro Trail.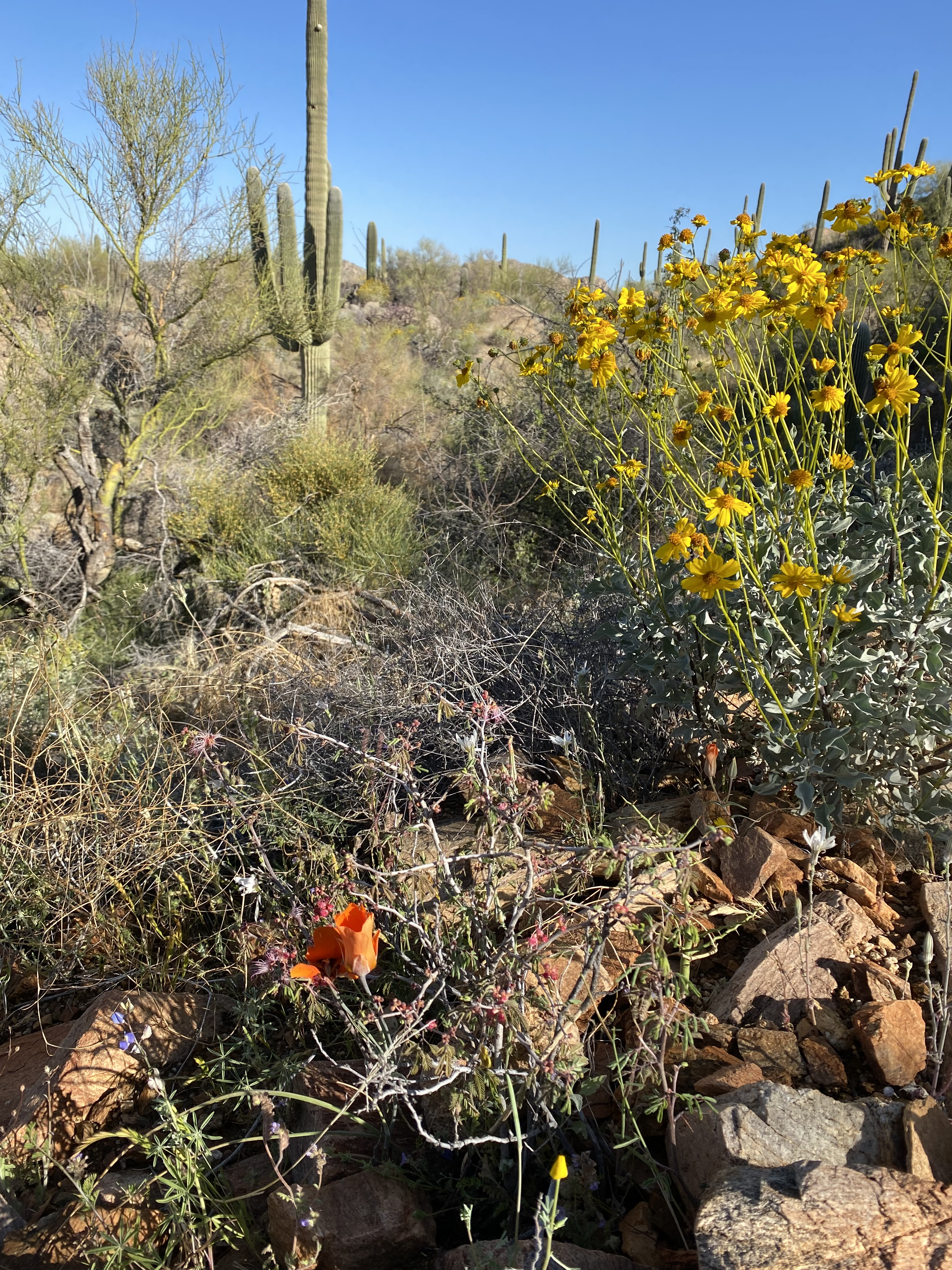 Photo by Marana Parks & Recreation.
Saguaro National Park – Tucson Mountain (West) District
Saguaro National Park features the largest cactus forest in the United States, spectacular sunset vistas, and dozens of hiking trails across the West and East Districts of the park. The Tucson Mountain (West) District shares a boundary with Marana, and is a great place to see wildflowers and birds. In addition to the spring wildflower blooms, the majestic Saguaro cacti bloom with white flowers, typically in April and May. These flowers are only open for 24 hours, where they are pollinated by bats, birds, and insects, and bear ruby red, juicy fruits in June.
Photo by Bryan Pierson.
Sanctuary Cove
Located near the Continental Ranch area, Sanctuary Cove is surrounded by the Tucson Mountains on all sides. It is a peaceful place for quiet relaxation and meditation, where you can stroll through the desert on one of their trails.
Photo by Sanctuary Cove.
Catalina State Park
Located just north of Oro Valley, Catalina State Park is located at the base of the majestic Santa Catalina Mountains (the ones that turn pink near sunset). The park, and the adjoining Coronado National Forest, offer a variety of canyons, streams, saguaros, and miles of equestrian, biking, and hiking trails for all skill levels. Catalina State Park is another popular location for wildflower-spotting, however, its blooms typically occur later in the season.
.
Photo by Margie Caswell.
Ironwood Forest National Monument
Famous for its jagged mountains and its display of unique desert trees, Ironwood Forest National Monument truly is a showcase of the Sonoran Desert at its wildest. The monument also contains three sites listed on the National Register of Historic Places. Due to its location further to the west of Marana and Tucson, Ironwood Forest National Monument does not see nearly as many visitors as some of the other locations on this list, so if you're looking for a truly wild and secluded experience, this would be it. Due to this seclusion, the park has not been developed to include extensive visitor facilities, and the roads are unpaved and rugged. Before you go, make sure to check on the most current travel and safety conditions on the monument's website, or by calling the local Bureau of Land Management office at (520) 258-7200.
Photo by the Bureau of Land Management.