When Breakfast is the Main Meal of the Day


Sky Rider Coffee Shop, 11700 W Avra Valley Rd, Marana, AZ 85653 (at Marana Regional Airport) – Classic American diner food done well. Locals love this hidden gem for wonderful people, authentic diner ambience, generous omelets, bottomless cup of coffee, and serious sandwiches.
Open 6:30 am – 2:00 pm, Monday-Sunday
Baja Café on Ina, 3930 W Ina Rd Tucson, AZ 85741 – A top-rated Tucson favorite breakfast spot with a new location in Marana. Choose from a menu with many pages of huge, gooey, chewy, creative, and saucy benedicts (like this Rodeo Benedict), waffles, famous snickerdoodle pancakes, huevos rancheros, and stacks. Did we mention that each dish is chef-made with fresh ingredients? Did we mention each dish is huge? Plus there are many incredible cocktails.There can be a wait to get in. Once you get in, you won't want to leave either.
Open 6:00 am – 2:00 pm, Monday-Sunday Main blog photo: Tiramisu Pancake, photo by Jackie Tran, Tucson Foodie

Just Breakfast on Silverbell, 8581 N Silverbell Rd, Tucson, AZ 85743 -- If you are looking for an easy local breakfast place with simple desert charm, plenty of choices that include serious biscuits and gravy, a substantial huevos rancheros, and a nice childrens menu, this is your place.
Open 6:00 am--12:30 pm, Monday-Friday; Sat-Sun, 7:00 am--12:30 pm.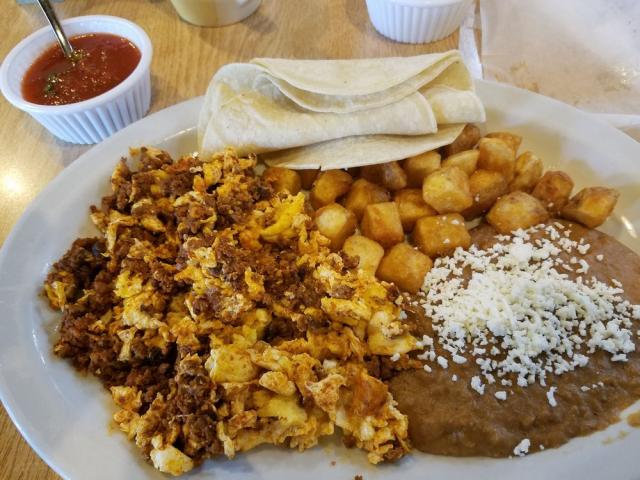 Nana's Kitchen, 8225 N Courtney Page Way, Tucson, AZ 85743 - A favorite for hearty Sonoran home cooking. Exit the I-10 at Cortaro Road.
Open 8:00 am – 8:00 pm, Monday-Thursday; 8:00 am – 9:00 pm, Friday-Saturday; 8:00 am – 2:00 pm, Sunday


Bisbee Breakfast Club on Ina, 4131 W Ina Rd, Tucson, AZ 85741 - Great choices in all of the breakfast food groups: omelettes, eggs, pancakes, potato cakes, huevos, and breakfast burros.
Open 6:00 am – 2:00 pm, Monday-Sunday
Topgolf Marana, 4050 W Costco Pl, Tucson, AZ 85741 - Whack a golf ball all day long in a cooled bay with a view and have chicken and waffle stacks for brunch! Plus breakfast, lunch, dinner, happy hour, beer, wine, and cocktails.
Open 9:00 am – 11:00 pm, Monday-Thursday; 9:00 am – 1:00 am, Friday-Saturday; 9:00 am – 12:00 am, Sunday
When Breakfast Needs to Be Fast and Right off the I-10
Taqueria Plaza's, 13865 N Sandario Rd, Marana, AZ 85653 - (do us a favor and burn this after reading) is a food truck with a super devoted fan base, four types of breakfast burritos that aren't on the menu above (for $5.00 & $6.00), fresh ingredients, perfect salas, and a perfect (!) Yelp rating. Shhhh! Even Tucson Foodie doesn't know about this gem.
When Breakfast Needs to Be Grab and Go (and award-winning)

Donut Wheel on Ina, 4524 W Ina Rd, Tucson, AZ 85741 – "Trusty and beloved" how the Queen of England has described Kate Middleton, Duchess of Cambridge. The Donut Wheel has a following of traditionalists that understand timeless quality. Donuts that meet Queenly standards and those of hungry workers everywhere are priceless. Award-winning and voted "Best of" by Tucson Weekly, Tucson Foodie, and Huffington Post.
Open 4:00 am – 10:30 pm, Monday-Sunday

La Mesa Tortillas, 3684 W Orange Grove Rd, Tucson, AZ 85741 - Basic breakfast burritos in award-winning tortillas, and house made tamales.
Open 9:00 am – 5:30 pm