When Breakfast is the Main Meal of the Day


Sky Rider Coffee Shop, 11700 W Avra Valley Rd, Marana, AZ 85653 (at Marana Regional Airport) – Classic American diner food done well. Locals love this hidden gem for wonderful people, authentic diner ambience, generous omelets, bottomless cup of coffee, and serious sandwiches.
Open 6:30 am – 2:00 pm, Monday-Sunday
Baja Café on Ina, 3930 W Ina Rd Tucson, AZ 85741 – A top-rated Tucson favorite breakfast spot with a new location in Marana. Choose from a menu with many pages of huge, gooey, chewy, creative, and saucy benedicts (like this Rodeo Benedict), waffles, famous snickerdoodle pancakes, huevos rancheros, and stacks. Did we mention that each dish is chef-made with fresh ingredients? Did we mention each dish is huge? Plus there are many incredible cocktails.There can be a wait to get in. Once you get in, you won't want to leave either.
Open 6:00 am – 2:00 pm, Monday-Sunday Main blog photo: Tiramisu Pancake, photo by Jackie Tran, Tucson Foodie
The Feedlot Café at Marana Stockyards, 14075 W Kirby Hughes Rd, Marana, AZ 85653 -- It's easy to love The Feedlot Café, and not just because it seems a world away and a long time ago. Despite the least frilly menu you'll ever see, the food is generous, delicious, and the friendly hosts make you feel as if you've stumbled into a Twin Peaks (the TV show, not the nearby road) parallel universe. Daily specials may include strawberry French toast, cinnamon raisin French toast, country fried steak, or a breakfast burger with bacon and egg, and a daily omelette special. The chalkboard announces the fresh pie and dessert offerings of the day.
Open 6:00 am – 2:00 pm, Monday-Sunday.
Just Breakfast on Silverbell, 8581 N Silverbell Rd, Tucson, AZ 85743 -- If you are looking for an easy local breakfast place with simple desert charm, plenty of choices that include serious biscuits and gravy, a substantial huevos rancheros, and a nice childrens menu, this is your place.
Open 6:00 am –12:30 pm, Monday-Friday; 7:00 am –12:30 pm, Saturday-Sunday.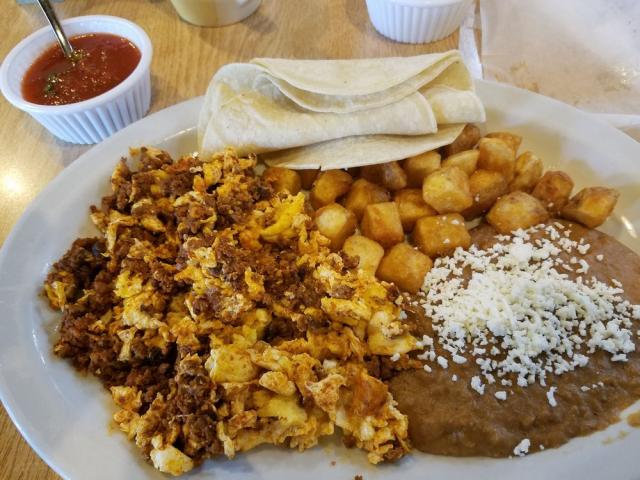 Nana's Kitchen, 8225 N Courtney Page Way, Tucson, AZ 85743 - A favorite for hearty Sonoran home cooking. Exit the I-10 at Cortaro Road.
Open 8:00 am – 8:00 pm, Monday-Thursday; 8:00 am – 9:00 pm, Friday-Saturday; 8:00 am – 2:00 pm, Sunday


Bisbee Breakfast Club on Ina, 4131 W Ina Rd, Tucson, AZ 85741 - Great choices in all of the breakfast food groups: omelettes, eggs, pancakes, potato cakes, huevos, and breakfast burros.
Open 6:00 am – 2:00 pm, Monday-Sunday
Topgolf Marana, 4050 W Costco Pl, Tucson, AZ 85741 - Whack a golf ball all day long in a cooled bay with a view and have chicken and waffle stacks for brunch! Plus breakfast, lunch, dinner, happy hour, beer, wine, and cocktails.
Open 9:00 am – 11:00 pm, Monday-Thursday; 9:00 am – 1:00 am, Friday-Saturday; 9:00 am – 12:00 am, Sunday
When Breakfast Needs to Be Fast and Right off the I-10
Taqueria Plaza's, 13865 N Sandario Rd, Marana, AZ 85653 - This is a food truck with a super devoted fan base, four types of breakfast burritos that aren't on the menu above (for $5.00 & $6.00), fresh ingredients, perfect salas, and excellent reviews.
When Breakfast Needs to Be Grab and Go (and award-winning)

Donut Wheel on Ina, 4524 W Ina Rd, Tucson, AZ 85741 – The Donut Wheel has a following of traditional donut lovers that understand timeless consistent high quality in the freshness and flavor. We don't know how these donuts rise above all others that we've had, but while they look like "regular" donuts, not artisanal, they are crafted with care. They are the fuel of choice for celebrations in offices through out Marana. Award-winning and voted "Best of" by Tucson Weekly, Tucson Foodie, and Huffington Post.
Open 4:00 am – 10:30 pm, Monday-Sunday

La Mesa Tortillas, 3684 W Orange Grove Rd, Tucson, AZ 85741 - Basic breakfast burritos in award-winning tortillas, and house made tamales. La Mesa Tortillas have been voted Readers Choice by Arizona Daily Star readers for many years, including 2020, and has been noted in Tucson Foodie.
Open 9:00 am – 5:30 pm
Smoothie King, 3820 W River Rd, Tucson, AZ 85741 (at Orange Grove Road)
Many different tasty options including keto protein smoothies, lean reduced calories, fresh fruit, veggie, vegan, supplement add-ons, and blends just for kids.
Crema Coffee, 3725 W Ina Rd #120, Tucson, AZ 85741
Open 5:30 am – 6:00 pm, Monday, Wednesday, Thursday, Friday; 6:00 am – 6:00 pm, Saturday. Closed Tuesday and Sunday. This is a place that takes its coffee so seriously that it has only seven coffee items on its menu (plus "tea" whatever that is).