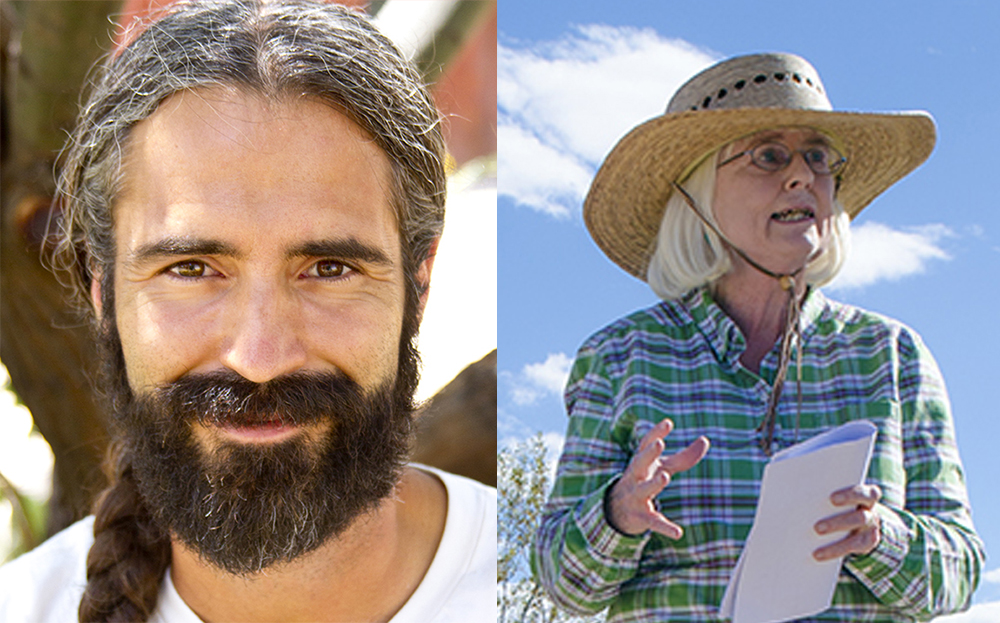 MARANA, ARIZONA (March 1, 2018) – Discover Marana, the tourism and marketing program of the Town of Marana, is pleased to announce the launch of its second gastronomy tour, "A Taste of the Wild: The Marana Wild Foods Gastronomy Tour". This tour explores foraging and wild food flavors with experts Dr. Suzanne Fish, University of Arizona Emerita Professor and Arizona State Museum Curator, and John Slattery, master bioregional herbalist, author, and gourmet forager. Tour dates are: March 9, March 29, and April 27.
The four hour tour stops at an archaeological site, includes a foraging walkabout, and tastings of wild foods prepared by John Slattery, Bean Tree Farm gourmet wild foods, and Catalina Brewing Company craft beer made with wild foods. Offered through April, the tours are limited to 13 people. Reservations through Gray Line Arizona are $99 per person.
"The Sonora Desert has more delicious wild foods than anywhere else I know of in this country," said Laura Cortelyou, Tourism and Marketing Manager for the Town of Marana. "Yet, until now, hasn't been an easy way to taste a wide variety of wild plant-based foods prepared by some of the best foragers in the U.S., who happen to be in Marana and Tucson."
Marana is home to wild foods educators, chefs, and craft brewers that responsibly harvest from the 450 edible plants in the Sonoran Desert; as well as farm-to-table restaurant suppliers, BKW Farms that grows White Sonora wheat used in local craft beer and artisanal baking by Barrio Bread, and half a dozen beekeepers that produce mesquite and wildflower honey.
According to Jonathan Mabry, Ph.D., President of the Tucson City of Gastronomy nonprofit organization, "The Marana Wild Foods Gastronomy Tour highlights what makes this region unique, and one of the reasons for its UNESCO Creative City designation. Wild flavors of the Sonoran Desert have drawn and sustained peoples here for more than 10,000 years."
Gray Line Tours Tucson is the tour provider and a third-generation family-owned business that has provided premier tours in, and from, Tucson for more than 100 years.
"A Taste of the Wild: The Marana Wild Foods Gastronomy Tour" is approved by UNESCO Creative Cities Network member, Tucson City of Gastronomy, the first City of Gastronomy in the U.S.
# # #
Marana Gastronomy Tour Reservations
For tour reservations visit www.GrayLineArizona.com.
For tour information visit www.TownOfGastronomy.org.
Marana Visitor Center
13881 N. Casa Grande Hwy #100, Marana, AZ 85653
Monday – Thursday: 9:00 a.m. – 4:00 p.m.; Friday, 9:00 – noon; closed Saturday and Sunday
About Discover Marana
Discover Marana was created in 2014 by the Town of Marana's Economic Development Department to promote visitation.
Marana has the Forbes Five Star-rated Ritz-Carlton, Dove Mountain resort, Tucson Premium Outlets at Marana Center, and Topgolf Marana. Once home to the Accenture Match Play, Marana has nationally-renowned golf courses including Dove Mountain Golf Club, The Gallery, and The Highlands. Marana hosts a start in El Tour de Tucson. Marana has the oldest agricultural irrigation canal system found in North America and numerous archeology sites. Hiking, biking, bird watching, and horseback riding are popular activities. For more information please visit www.DiscoverMarana.org. Follow Marana on Facebook and Instagram.