Shop 'til you drop in Marana - and find some places to eat, drink, and relax when you do drop! When the holidays roll around, many of Marana's retailers offer excellent savings on your favorite brands, to kick-start your holiday shopping!
1) Looking for the Best Prices?

Take a look at the current Tucson Premium Outlets deals and offers here.
Spend some time at Arizona Pavilions Marketplace for daily offers at Ross Dress for Less, T.J. Maxx, and Home Goods.
Check out Bookman's Marana location on Ina Road near Thornydale Road.
2) Easy to Get To


The Tucson Premium Outlets at Marana Center are conveniently located off of Interstate 10, about 20 miles northwest from downtown Tucson and 90 miles southeast of downtown Phoenix. From Interstate 10, take Exit 244 for Twin Peaks Road, and then make a right onto Marana Center Boulevard.
Arizona Pavilions Marketplace is just 3 miles from the Tucson Premium Outlets at Marana Center, located off of Interstate 10. Take Exit 246 for Cortaro Road and turn west onto North Cortaro Road. Arizona Pavilions Marketplace extends along the south side of Cortaro Road, with easy parking in front of each store

Ina Road is only 6 miles from the Tucson Mall. Target, Bookman's, and Guitar Center are two shopping destinations in the area.
You can also get to the outlets on the convenient Sun Shuttle.
3) Dozens of Your Favorite Stores to Chose From
The Tucson Premium Outlets at Marana Center features designer and brand name goods with deep savings from retailers including Coach, Nike, J. Crew, Brooks Brothers, Saks Fifth Avenue Off 5th, Michael Kors, The Gap, Calvin Klein, Tommy Hilfiger, Converse, Forever 21, Lucky Brand Jeans, and more. With a mix of designer fashion, sportswear, children's stores, jewelry, cosmetics, perfume, and housewares, the Tucson Premium Outlets at Marana Center is the perfect place to stop for any season, special occasion shopping, or just getting out and enjoying walking around. There are over 50 stores to browse. Here's a link to the list of the stores.
There are also many convenient dining options at the Tucson Premium Outlets, including Charleys Philly Steaks, Dairy Queen and Orange Julius, Famous Wok, rAAAspados y Más, Sbarro, Starbucks, and Wetzel's Pretzels.
Arizona Pavilions Marketplace has shopping and entertainment in the Continental Ranch area of Marana. A Walmart Super Center, Kohl's Department store, and several other big-box staples ensure everything from snacks to bathing suits or shorts to pool noodles are within reach! Catch a movie when you're done at the Harkins Theatres Arizona Pavilions 12 mulitplex!

Surrounded by local family-owned eateries, such as The Screamery, the top-rated ice creamery in the region, Nana's Kitchen Authentic Mexican Food, and Sushi Cortaro; and with Asian Spice, La Olla Mexican Café, Growler's Taphouse, and Li'l Abner's Steak House in the neighborhood, Arizona Pavilions Marketplace is a destination for local dining as well as shopping.
4) Many Things for the Family to Do
Topgolf Marana is right in the middle of Marana's shopping corridor! With active entertainment for the whole family plus food, you can shop around town and meet up there.
Did you know that axe throwing has arrived? Splitting Timber Axe Throwing makes Tucson Premium Outlets more than just a shopping mall—it's now a shopping axperience. Tucson Premium Outlets offers live music by local bands, outdoor lounging areas, a kids' play area, nursing lounges, a food court, fireplace for enjoying cool desert evenings, and plenty of device charging stations, so your loved ones can take a break and relax while you're bargain hunting.
Arizona Pavilions Marketplace has plenty of family dining options, plus the Arizona Pavilions 12 Harkins Theatre, whenever you need to drop, cool off, or be entertained.
5) On the Wild Side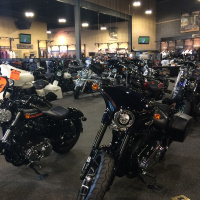 Don't miss a visit to the Marana Harley Davidson showroom. It's an experience you'll never forget. If you're looking for a motorcycle, you can find all kinds of Harley Davidson merchandise, clothing, and accessories.
HMS Bikes near Arizona Pavilions Marketplace has bikes for sale, bikes for rent, and bike repair.
Shop and Then Stay!
The Hampton Inn & Suites Tucson-Marana is located just across from the Tucson Premium Outlets!
Make your shopping trip into a mini-getaway! Look for places to stay on our website.
Don't miss out on news about upcoming events and activities in Marana. Sign up for our Discover Marana email list and we'll share inspiring ideas for Marana adventures and vacations, plus deals and savings on lodging and activities. Click here to subscribe!