Whether you are a full time boondocker or hitting the road to work remotely in the great outdoors or schooling your kids from the road and stopping at museums and historical sites across the country for educational enrichment, you absolutely must explore Southern Arizona, one of the most camper and RVer-friendly places in the U.S. for the fall and winter months, through April. Completely unlike Joshua Tree National Park, in the Mohave Desert, the Sonoran Desert is lushly forested and has numerous and varied mountain ranges and desert valleys.
Camping/RV Parks/Hip Camping in Marana
Explore each of our customized road trip maps, below, and you'll find that Marana is a great place to be based in Southern Arizona. You can camp in a natural desert landscape that feels like it's a million miles away, yet be minutes from Town of Marana parks, trails, and amenities that include any kind of cuisine that you may think of, The Ritz-Carlton, Dove Mountain's Forbes Five Star Spa, and twenty-four-hour shopping.
Traditional Campgrounds/RV Parks with Amenities
From north of Marana to the south of Saguaro National Park West.
1. Picacho/Marana KOA Journey is open year-round, offers tent/RV/cabin camping, Wi-Fi, and many amenities (snack bar, dog park, clubhouse, pool). It is north of Picacho Peak, the Town of Marana, Ironwood National Monument, and Saguaro National Park West.
2. Picacho Peak State Park Campground is open year-round, offers tent and RV camping. High-speed Wi-Fi for the internet is available.
3. Picacho Peak RV Resort for 55+ adults only community manufactured homes for rent and for sale. Pool, clubhouse, many amenities.
4. Valley of the Sun Mobile Home & RV Park is a Good Sam Club park with 70 RV spots and 50 permanent mobile home sites, with Wi-Fi, pool, recreation, laundry, and many other amenities. Within the Town of Marana, along the I-10 freeway.
5. A-Bar-A RV Park, Camping, RV Storage very basic RV Park with a great Passport America rate that has been mentioned in reviews.
6. South Forty RV Ranch is a Good Sam Club park for adults only, within the dense urban part of the Town of Marana, near the I-10 freeway. It has Wi-Fi, pool, clubhouse, and many amenities.
7. Gilbert Ray Pima County Park Campground (next to Saguaro National Park West). Seven-day stay limit. Tip: If Gilbert Ray is full, ask for recommendations.
Adventure & Hip Camping
1. Cactus Forest BLM camping is very rustic, with no amenities, and remote. In the gorgeous lush desert.
2. Ironwood National Monument camping is a very rustic, very rough road, for boondockers (meaning no amenities). It feels remote and yet is about 40 minutes from a diner (Sky Rider Cafe at Marana Regional Airport). Ironwood National Monument has stunning views, flowering trees, and interesting rock formations. See the camping site map here.
3. Book the only camping spot at the beautiful Wild Burro Desert Retreat (pictured above) or other Marana-area private ranch and campsites on HipCamp.com and AirBnB.com.
4. Mira Vista Resort is a vintage upscale gated clothing-optional resort where Western movie filming stars and directors stayed starting in the 1930s (it was then known as Saguaro Vista Resort). You may be able to camp in your RV in the spacious parking lot for a nightly fee. Call for availability and details.
5. Sanctuary Cove offers a guest cottage for two people with a full kitchen and may also have a space for an RV with the rental of the guest cottage. Sanctuary Cove is located in the middle of the classic Western movie filming scenery. Call for details.
Unusual Bed & Breakfast Inns
Within Saguaro National Park West
1. The Crickethead Inn is Balinese-themed, decorated with antique furniture and textiles. It sits within the breathtaking Picture Rocks and Saguaro National Park West landscape. It is very close to the Town of Marana suburbs and amenities.
2. Hacienda Linda is a sultry Bohemian Mexican art and crafts-themed bed and breakfast, with beautiful grounds and very close to Saguaro National Park West and Arizona-Sonora Desert Museum.
Food & Libations
You are bound to work up an appetite while exploring the outdoors. Check out Marana's top restaurants, taphouses, resorts, and more.
1. Craft Breweries and Taphouses
3. Marana Dining Guide: Sonoran Mexican Food
4. All Hotels & Luxury Resorts in Marana
Insider Tips
Mature Saguaro cacti can grow to as high as 40 feet (more than 12 meters). Each one is unique and can have many arms or just a few. A forest of them is majestic. You cannot hug them because they have serious spines, though you might want to because they are adorably anthropomorphic. They usually bloom between late April and mid-June. You can read more about that here.
By June, Saguaro Cactus flowers that were pollinated by bats have turned into deep ruby-red fruits. These fruits were harvested by ancient peoples for millennia. Today, some Tohono O'odham tribe members continue to harvest Saguaro fruit in a ritual that marks the beginning of the New Year, which varies every year depending upon when the fruit is ripe. The fruit is prepared into a sweetened jam that tastes like raspberry and plum.
Nature & Adventure Road Trips
Click here for an interactive map of this road trip.
For an introduction to the natural Saguaro landscape without being too far from hotels and amenities, make a beeline to Saguaro National Park West. You can quickly get into one of the most beautiful National Parks in the U.S. and immerse yourself in the Saguaro universe. Here you'll find easy walks, hikes, and scenic drives that feature many different views of interesting mountains, petroglyphs, birds, and wildlife everywhere (hawks, ravens, Desert Cottontail bunnies, roadrunners, and squirrels are common to see). From the Marana Road exit 236 off the I-10 southbound from Phoenix, about 14 miles north of Tucson, you will be in Saguaro National Park West in less than 30 minutes. Continue to the west on Sandario Road. From there it's a direct route that quickly changes from farmland to Saguaro landscape.
A road trip that you can complete in an hour or two starts at the Saguaro National Park West Red Hills Visitor Center where you can pay for your pass, pick up a map, and grab some souvenirs. Then head a little more than two miles away to Signal Hill Picnic Area and take a 5-7 minute walk from the parking area to a spectacular lookout of petroglyph-covered rocks. If you have more time, you can explore hiking, walking, or scenic driving loops in the Park.
From the Red Hills Visitor Center the world-renowned Arizona-Sonora Desert Museum is just a couple of miles down the road. Here you will find the animals of the Sonoran Desert in their natural habitats. From mountain lions to raptors to javelina to hummingbirds. The Arizona-Sonora Desert Museum is half a day in itself and has dining options and a large gift shop for visitors only.
Another easy half-day trip is to Ironwood Forest National Monument, just 30 minutes north of Saguaro National Park West. You can keep your home base in Marana for this trip, as Ironwood Forest is only 44 minutes from the nearest hotel in Marana. Ironwood Forest has craggy mountains and a lush desert landscape of Saguaro cacti, Ironwood trees, and Palo Verde trees. Ironwood trees are thought to be the oldest trees in the southwest, living to be as old as 1,500 years. They have dense clusters of lilac purple and white flowers in the spring that, from a distance, resemble Cherry Blossoms or orchids. Palo Verde trees have bright yellow blossoms in April or May. The explosion of color from these, and other flowering Sonoran Desert trees, is sometimes surreal.
From Saguaro National Park West, you have some very different options to continue your nature adventures to the south. To the southwest of Saguaro National Park West, you can explore the Baboquivari Peak Wilderness Area, a sacred mountain that hosts Kitt Peak and Kitt Peak National Observatory. Southeast is Madera Canyon, in the Coronado National Forest, just over an hour from Saguaro National Park West Red Hills Visitor Center, where you will find a lush pine and oak forest, and a running creek.
If you want to get as far away from city life as possible, less than two and a half hours southwest from Saguaro National Park West is Organ Pipe Cactus National Monument. Heading south from S. Sandario Road, take W Tucson-Ajo Highway 86. You will drive through the Tohono O'odham Indian Reservation, which is the third-largest in the U.S. You could spend months visiting National and State parks throughout Southern Arizona and never see the same type of landscape.
For an adrenaline charge, try Arizona Zipline Adventures in Oracle, an hour and 20 minutes northeast from Saguaro National Park West Red Hills Visitor Center. You'll find a completely different landscape at the slightly higher elevation there, with oak forest and lush vegetation. You'll also be in the neighborhood of world-famous Biosphere II, so plan to take a look.
Where to Stay
Ancient & Contemporary Native American Culture Road Trips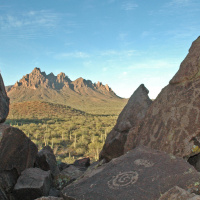 Click here for an interactive map of this road trip.
Did you know that the earliest large-scale agricultural irrigation site ever discovered in the U.S., at 4,000 years old, is in Marana? That is just one example of the continuous history in this region, which can be explored through museums, tours, sacred peaks, and natural areas. In 2018, this region was named the Santa Cruz Valley National Heritage Area for the ancient and contemporary cultures that have been here for at least 13,000 years along the Santa Cruz River. For 15 must-see places along the Santa Cruz River check out the guide to the Santa Cruz Valley National Heritage Area here.
How do you cap a day of immersion in extraordinary ancient and living Native American cultures? A great way starts with award-winning cuisine at Casino Del Sol Resort's PY Steakhouse on the Pascua Yaqui Reservation. Casino Del Sol is situated in a stunning landscape, which is a mini-road trip in itself if you take the scenic backroads—from Saguaro National Park West/Arizona-Sonora Desert Museum/Old Tucson to Casino Del Sol via S. Kinney Road, to Irvington, to S. Joseph Road, to Valencia Road.
In addition to the sites in our guide that are adjacent to the Santa Cruz River, you might take a road trip to Kitt Peak and Baboquivari Peak. Both are sacred peaks to many peoples in the Sonoran Desert. The two peaks are about 1 ½ hours apart by car, and about an hour and 20 minutes from Saguaro National Park West's Red Hills Visitor Center.
Where to Stay
Stay at hotels in Marana for the closest and most scenic access to Saguaro National Park West and Ironwood Forest National Monument.
Ancient Southwest Culture Souvenirs
Cowboy Western Movie Locations/Vintage Guest & Dude Ranches Road Trips
Click here for an interactive map of this road trip.
Visit the top five Western movie filming locations experiences in the Marana-Tucson area, and then see even more movie locations just 1 ½- 2 hours south of Old Tucson. From Old Tucson, continue 1 ½ hours south to Tombstone, the historic Western town where many movies about its history were also filmed, and Bisbee, the historic mining town, where Bisbee '17 was recently filmed.
Where to Eat
Li'l Abner's Steakhouse is a must, to sit on the same bar stools and chairs that probably every famous actor that ever filmed in this area ever sat on. Here are a few that most definitely have sipped and supped here: Tom Mix, Rex Allen, Randolph Scott, James Stewart, Audie Murphy, Joseph Cotton, Robert Powell, John Wayne, Ronald Reagan, Van Johnson, Richard Widmark, Robert Mitchum, Lee Marvin, James Garner, Keith Carradine, and maybe even George Clooney and Sam Rockwell. Li'l Abner's inviting atmosphere and vintage interior might also have attracted leading ladies such as Shelley Winters, Yvonne de Carlo, Joanne Woodward, Janet Leigh, and Sharon Stone.
Hacienda del Sol in the Catalina Foothills has classic Hollywood character, history, and great views.
Hotel Congress in downtown Tucson has an authentic Western history, urbane cowboy chow, and unmatched desert deco ambiance. Want to learn about John Dillinger? This is your place.
Where to Stay
Luxury Destinations for a Road Trip (That You May Not Have to Drive to)
Click here for an interactive map for this road trip.
Why drive all over the place when you can have an escape and hunker down at either (or both) of the two most luxurious destinations in Arizona's the Sonoran Desert with Saguaro National Park West views? Hiking, swimming, horse riding, and more await you. The Ritz-Carlton, Dove Mountain, is one of a handful of resorts that was on both of the Forbes Travel Guide's lists of the most luxurious resorts and most luxurious spas in the world. It has a view of petroglyphs and Saguaro cacti from the spa pool and, if you're lucky, your massage table.
You may stay for a long while at the White Stallion Ranch, the nationally top-rated luxury guest ranch by TripAdvisor, where you can experience the desert through multiple daily horse rides and personal guided Western movie filming location history tours, in addition to rock climbing and loads of daily activities.
The choice is difficult: lay around by a pool after a massage, and then dine on Sonoran Desert haute cuisine or hang out in the coolest, most luxurious Western movie filming location in the world and be active in the desert as much as you want. Ugh. Decisions. Book back-to-back visits at both. Really, why wouldn't you?
Where to Stay
Where to Dine
A couple of feet from your bed at either/both resorts.
On a trail ride at White Stallion Ranch (for guests only).