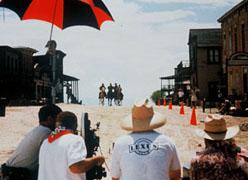 Welcome to Southern Arizona, the capital of cowboy Western movie production outside of Hollywood, since 1915. There is movie magic all over Southern Arizona – and it's a lot easier to find than Humphrey Bogart's quest in Treasure of the Sierra Madre (filmed here in 1948)! Westerns are still being filmed throughout this area and in Marana. The Town of Marana Film Office may assist producers with scouting locations or finding accommodations, talent, and crew.
1. Old Tucson Studios & Theme Park
Located less than 30 minutes south of Marana, Old Tucson is the only major Western film production satellite studio and stage back lot outside of Hollywood for more than 55 years. Several hundred feature films and television shows were filmed here starting in 1939 and feature films are still filmed here. Many consider it to be the ultimate Western movie-centered theme park. The full-scale town sets were built with fully completed interiors. Costumed extras, restaurants, shops, and historic-themed demonstrations flow like a day in the life of an old Western movie studio campus.
Tip: Take the most scenic route to Old Tucson from Phoenix, or points north of Marana, by exiting the I-10 at exit 236 (Marana Road) and following the easy drive through Saguaro National Park West. You'll see two of the wonders of Southern Arizona in one.
2. Rodeo Parade Museum
Please note, be sure to check this attractions website for current hours.
Just south of downtown Tuscon, this museum is the best-kept secret in Southern Arizona. What you'll find at this unassuming compound of four airplane hangar-sized buildings, is nothing less than an astonishing Smithsonian-scaled achievement of public history based around more than 100 horse-pulled vehicles. The collection ranges from very fancy carriages to rustic wagons, stagecoaches, and buckboards to Santa's sleigh; all more than 100 years old, and restored. There are full-scale installations of historic businesses, and reproductions of commercial daily life, rooms of historic tack, ropes, fittings, and stories to go with every object. A number of the vehicles in the collection were used in movies and are clearly marked with signage. You can see the actual Surreys with the fringe on top from the movie Oklahoma! filmed in Tucson in 1955, the buckboard from a John Wayne film, and many more.

3. White Stallion Ranch in Marana
Truly authentic, truly top-notch, and truly unparalleled. The White Stallion Ranch is a private guest ranch (open to guests with reservations only), that has been voted the Best Family Resort by USA Today in its 10 Best Readers Choice Awards multiple times and ranked #1 on TripAdvisor for Tucson hotels for seven consecutive years. Guests will enjoy a riding vacation as well as experiencing the extensive rock climbing program with over 30 climbs ranging in difficulty from a 5.3 to 5.12, a shooting range with cowboy style guns and fat-tire e-biking, all while being fully immersed in one of the most filmed Western movie locations in the country. More than 100 classic cowboy Westerns and 17 episodes of High Chaparral filmed at White Stallion Ranch for its majestic scenery. Movie filming history tours are available to ranch guests only.

4. Li'l Abner's Steakhouse in Marana
If only the walls here could talk. When Western movie stars and crew weren't hanging out by the pool of their boutique guest ranch in Marana, after a long day of filming, they were likely at Li'l Abner's Steakhouse, right in the middle of all of the action in between the guest ranches and the filming locations. Li'l Abner's has an authentic cowboy and movie cowboy atmosphere slowly accreted from 100 years ago when it started as a rodeo roping practice hangout, which evolved into a bar for 72 years, then a restaurant. There aren't many authentic places like this left in the world where ranchers, cowboys, and Hollywood actors and producers mingled and caroused. Don't miss the velvet painting of John Wayne over the fireplace.
5. Mira Vista Resort
Mira Vista Resort was originally founded as Saguaro Vista Ranch in 1936. According to Russell True in his book, Dude Ranching in Arizona (2016), John Wayne, Greta Garbo, Cary Grant, and Katharine Hepburn, all stayed here. With its Pueblo Revival architecture and volcanic rock arches, rock walls, original wood floors, pool, restaurant, new amenities, vintage luxury charm, and brand new Santa Fe style condos, it's easy to see why it has become a popular clothing-optional resort. Mira Vista Resort photo by Jim Collette.
6. Trail Dust Town
In 1951, a Western movie starring Glenn Ford started filming on Tucson's east side but wasn't completed. The set for that movie, a replica of a late 1800s town, was abandoned. A businessman with art school training salvaged it, repurposed it into Trail Dust Town, and a mini-version of Old Tucson was born in 1961 that has been charming families and visitors ever since. The attraction includes shopping, dining, a museum, an event center, and entertainment. It has Pinnacle Peak steakhouse, a charming antique amusement park including a 1920s Allan Herschell merry-go-round, a narrow-gauge train, the Museum of the Horse of the Soldier, and a weekly comedy wild West stunt show arena. Sometimes, the world-famous trick roper, Loop Rawlins, makes special appearances.
7. Mescal Movie Set
Mescal has been a Western film location for more than 70 years. It was a location in the 1940s, then operated by Old Tucson as a second backlot. Now it has been restored and upgraded and open for filming and the public with new guided tours and events. Don't miss a chance to walk the streets where The Outlaw Josey Wales, Tombstone, The Quick and the Dead were filmed. Episodes of Bonanza, Gunsmoke, The Magnificent Seven, and Little House on the Prairie were filmed at Mescal. It was also the town of Sweetwater in The Young Riders television series.
Bonus: 9 Must-Watch Cowboy Westerns Filmed in Marana and at Old Tucson
1. The Wild Bunch (1969) with William Holden and Ernest Borgnine

2. Rio Bravo (1959) with John Wayne and Angie Dickinson

3. Treasure of the Sierra Madre (1948) with Humphrey Bogart

4. Winchester '73 (1950) with James Stewart and Shelley Winters

5. 3:10 to Yuma (1957) with Glenn Ford and Van Heflin

6. The Quick and the Dead (1992) with Sharon Stone, Gene Hackman, and Leonardo DiCaprio

7. Arizona (1940) with Jean Arthur and William Holden

8. Relentless (1948) with Robert Young and Marguerite Chapman, costumes by Jean Louis

9. The Gal Who Took the West (1949) with Yvonne de Carlo and Charles Coburn