Read what Fodor's Travel Guide says about the Marana Gastronomy Tours.
If you are a foodie with an adventurer's interest in the ancient world, you'll love the Town of Marana's two different Marana Gastronomy Tours, each running once a month from October 2018 through April 2019, offered by Gray Line Tours Arizona. There are only two left for the season and 12 spots available on each tour.
Click here to make your reservations now for A Taste of the Wild: The Marana Wild Foods Gastronomy Tour for Sunday, April 7. This tour features a guided wild foods walk about with one of our area's wild foods authors, teachers, and speakers such as Felipe Molina or Carolyn Niethammer, who share a tiny bit of their knowledge of the 450 edible wild foods in the Sonoran Desert.
Click here to make your reservations now for The Marana Gastronomy Tour for Thursday, April 18. This tour features a multicourse tasting of small plates at the Forbes Five Star-rated The Ritz Carlton, Dove Mountain, specially prepared for the Gastronomy Tour by The Ritz Chefs.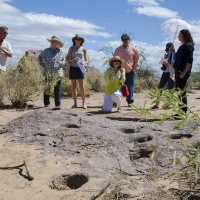 Both tours are guided by archaeology experts including University of Arizona anthropology professor emerita and Arizona State Museum Curator Dr. Suzanne Fish or Allen Denoyer of Archaeology Southwest. Tour stops include ancient archaeological sites of the Hohokam culture that relate to foodways.
Both tours feature modern libations and cuisine tastings of wild foods, ancient domesticated native foods, and post-1699 European foods. Barrio Bread (made with Marana-grown BKW Farms' Sonoran white wheat), wildcrafted foods by Bean Tree Farm, and craft beer by Catalina Brewing Company.