Does discovering an ancient kitchen and tasting Sonoran Desert wild foods peak your interest? If you are not only be a foodie, but a gastronomic foodie with anthropological leanings, then a new tour program created by Discover Marana, the Town of Marana's tourism program, offered by Gray Line Tours Arizona, is definitely your cup of prickly pear tea.
Ancient foodways, artisanal flavors, and Sonoran haute cuisine set the stage for two different Marana Gastronomy Tours, each running once a month from October 2018 through April 2019. The tours travel back thousands of years with archaeology experts including University of Arizona anthropology professor emerita and Arizona State Museum Curator Dr. Suzanne Fish (llater in the season) and Allen Denoyer of Archaeology Southwest. Tour stops include ancient archaeological sites of the Hohokam culture that relate to foodways, and returning to the present for modern cuisine tastings infused with with ancient wild foods, ancient domesticated native foods, and post-1699 European foods. BKW Farm, Bean Tree Farm, Catalina Brewing Company, and Ritz Carlton, Dove Mountain all take center stage during the epicurean showcase.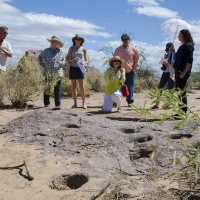 "Marana is situated on one of three places along the Santa Cruz River watershed that has supported the oldest agriculture systems in North America for more than four thousand years," said Town of Marana Tourism Manager Laura Cortelyou. The gastronomy tour was designed to explore that rich history in the context of contemporary dishes that use ancient flavors.
Marana's rich concentration of archaeological sites are still yielding surprising discoveries such as the oldest agricultural irrigation canal system in America found in 2009 that is 4,000 years old. Marana plays a significant role in the southern Arizona culinary networks through its own noteworthy restaurants and as a supplier to regional restaurants, farmer's markets, and dining room tables.
The Marana Gastronomy Tour is the first tour approved by United Nations Educational, Scientific and Cultural Organization's (UNESCO) Creative Cities Network member, Tucson City of Gastronomy, the first UNESCO City of Gastronomy in the U.S. The designation recognizes 13,000 years of habitation, 4,000 years of formal agriculture, the longest agricultural history of any city in North America, and 300 years of orchards and livestock ranching – a history shared by Marana and Tucson. More information can be found at www.townofgastronomy.org/ .
Onlty 12 spots are available for each tour.
Click here to make your reservations now for the Marana Gastronomy Tour.
Click here to make your reservations now for A Taste of the Wild: The Marana Wild Foods Gastronomy Tour.