Crema Coffee on Ina Road near Bookman's in southeast Marana


Crema Coffee instantly brought Marana's libations game up a few notches. It's a minimalist temple to serious coffee drinking, using Exo Roast Co. beans and providing the kind of experience you might find in Portland, OR. It's that good. Tucson Foodie caught up with the owners to get their take on serving craft coffee.
Jimmy's Pita and Poke Bowl on River Road at Orange Grove


A longtime local favorite, noted by Tucson Foodie. Now in the southeastern-most part of Marana (it's not in NW Tucson, it's in SE Marana – honest).
Smoothie King on River Road at Orange Grove (walk in and drive through)

Smoothie King is two doors down from Jimmy's Pita and Poke Bowl. This poses a dilemma. What is the proper food order, smoothies first or poke? Smoothie King offers smoothies that taste better any we've had in years. The numerous options are categorized by dietary and energy need. The ingredients are natural, organic, and aren't common allergens. And it has a drive through. We're addicted.
Food Trucks on Sandario Road west of the I-10

Marana has two food trucks worth pulling off the I-10 for! One offers fresh beignets! Check out these two food trucks and see their Facebook pages and websites for hours that may change seasonally.
Magnolia Blossom food truck on Sandario Road right off the I-10 on the west side (13395 N Marana Main St Marana, AZ 85653)


In the first block off the I-10, Magnolia Blossom serves Southern style BBQ with an emphasis on meats, beans, coleslaw. The beignets and coffee are proving popular.

Taqueria Plaza's food truck on Sandario Road off the I-10 on the west side (13526 N Sandario Rd, Marana, AZ 85653 in the First Baptist Church courtyard across the street from Family Dollar Store)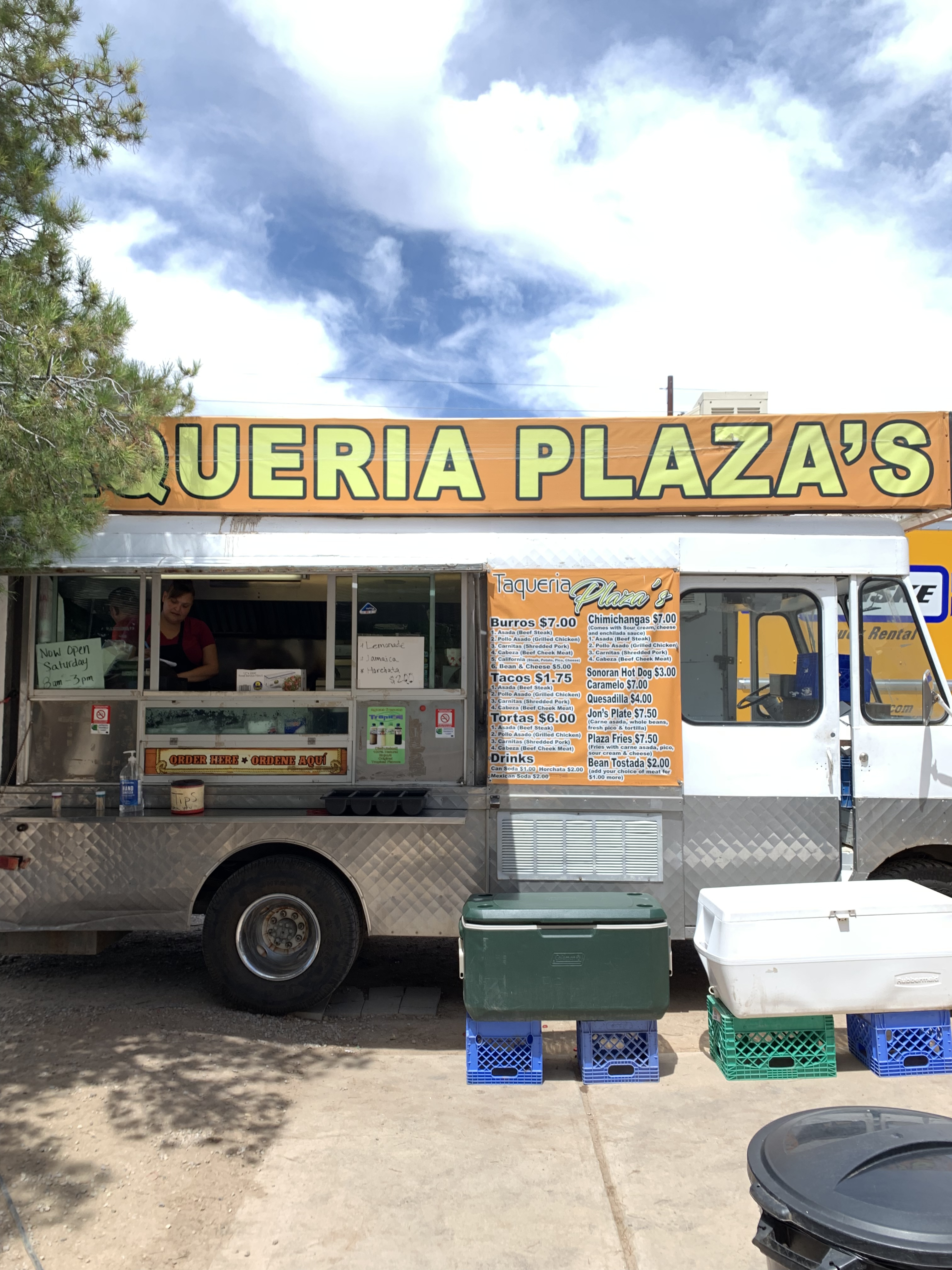 A few blocks down Sandario from the I-10, you'll find classic fresh and meaty food truck tacos.Taqueria Plaza's is a gem that's worth a try.
Coming soon to Marana:
Bisbee Breakfast Club on N. Sandario Road Marana at the I-10
Finally there is a local restaurant right off the I-10, in a brand new building. For weekend brunch you can head over to Tumbleweed Lounge at 10 am across the street for a cocktail after your Bisbee omelet.
Chuy's Mesquite Broiler on N. Sandario Road Marana at the I-10
Chuy's offers a wide range of popular Mexican and Californian BBQ dishes from Baja-style fish tacos to California Central Coast tri-tip BBQ, all graced with mesquite wood flavor.
Spice Garden Indian Restaurant on Arizona Pavilions Drive near Harkins Theatres 12 Arizona Pavilions
Spice Garden is being built from the ground up. It looks to be a large restaurant and will be a very welcome addition to the neighborhood.
El Rancho Market on Ina Road
We're excited to welcome El Rancho Market to Ina Road! El Rancho Market is an Arizona family-owned market with a sister market in Chandler that has been named one of the ten best markets in Arizona!
Serial Grillers on Cortaro Road, opening on or around January 15, 2020
The #1-rated pizza place on Yelp with a fierce cult following.
Wicked Monkey Brewing Company on Business Park Drive down the street from Harkins Theatres Arizona Pavilions 12 (west of I-10 at Cortaro Road), opening in late 2020
Shawn Cochran, a longtime brewer at Dragoon Brewing, is launching his first craft brewery in what will surely become a great destination. See more from Inside Tucson Business.